The manage connections section of the admin tools tab is where you can connect any personal connections that you may need to utilize in SalesWarp.
The connections supported in SalesWarp are:
•FTP
•Email
•API
To set up a connection, begin by navigating to Admin Tools -> Manage Connections.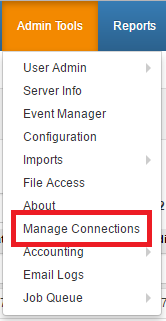 Click "Add Connection" in the upper left hand corner of page.

You will need to enter in a name for your connection and choose the connection type.
Enter the information for your connection and click save in the upper right hand corner.
(FTP)
(Email)
(API)
You will now be able to use your connection within SalesWarp!
If you have any questions or require further assistance, please feel free to contact us at support@saleswarp.zendesk.com