There may be times when you have additional questions, requests, or run into issues when working with SalesWarp. To help with any of your needs/issues in SalesWarp, we will detail how to use our online ticket support system, our email support system, and SalesWarp on page ticketing tool.
NOTE: Standard Support is available via our online ticket system, during business hours from 9am-5pm EST, Monday thru Friday each week excluding US holidays. Please refer to Section (3) Escalation Procedures, outlined in your Service Level Agreement to learn how SalesWarp classifies ticket priority and ticket response time.
We ask that you submit all customer inquiries in the form of a customer ticket to Zendesk. SalesWarp will organize customer tickets into the following ticket categories:
•Bug / issue: Any features or functionality that are not working in SalesWarp and any error messages you receive.
•Question: Questions you may have regarding the software or service. If you are unsure of how to execute a task in SalesWarp, please refer to this user manual, before submitting a question ticket.
•New feature: An additional feature that is not part of SalesWarp's core functionallity. New features will be considered for new releases.
•Change request: Any changes to your current instance of SalesWarp. Please identify the priority level of the change request. All change requests will be billed on an hourly basis. SalesWarp will send you a change order to sign for your request change. It will be put into our schedule after we receive the signed change order back from you. All conditions of our service agreement will apply.
Getting Started:
Once you are live on SalesWarp, a member of our support team will send you a welcome email welcoming you to Zendesk. Follow the link in the email to create your login and password.
Once you have created your login information, you will have access to the SalesWarp help center page.
This will be your dedicated customer portal to:
•access your ticket history and activity
•submit, track, and respond to tickets
•view a list of subscribed community topics and questions
On the SalesWarp help center page, click on your profile icon in the upper right side of any page, then, click "Edit my profile" to edit your personal information in the help center. This information is used in your contributions to the help center.
One more thing. You have the ability to rate how satisfied you are with the support you received. By default, you will receive an email 24 hours after the ticket has been set to "Solved" that asks one question with two possible answers (Good I'm satisfied or Bad I'm unsatisfied). We greatly appreciate your feedback!
Submitting a ticket via email:
To begin, compose a new email in your email client. Address the email to support@saleswarp.zendesk.com.
Enter a subject using the template below as a guide:
Company Name: Ticket Category (Bug/Issue, Question, New Feature, Change Request): Subject of Ticket
Example subject line:
SalesWarp: Question: How do i submit a ticket?
Finally, enter your message into the body of the email. If applicable, include a link to the relevant URL or a screen shot of the screen you are referencing (Attachment file size is limited to 1 MB).
Your email will be sent and a ticket will be created in Zendesk based on the email.
Submitting a ticket via the online portal:
You can access the SalesWarp customer portal by using the following link:
https://saleswarp.zendesk.com/access/unauthenticated?theme=hc
Once on the SalesWarp customer portal page, sign in using your email and password.
At the top of the page, click on submit a request.
Using the template below, enter in a subject:
•Identify your company name followed by :
•Next, identify a ticket category (Bug / Issue, New Feature, Change Request) followed by :
•Finally, identify the subject of the ticket
This helps us quickly sort customer tickets, so that we can respond as fast.
(Example subject line) SalesWarp: Question: How do i submit a ticket?
Just as with the email ticketing system, you can attach a screen shot or link to the page you are referring to in your ticket (size limit is 1 MB).
Click submit and your ticket will be created in Zendesk.
Submitting a ticket from a page within Saleswarp:
On any page of your SalesWarp site, you will see a button that says ticket in the bottom right hand corner of the screen.
Clicking this will allow you to create a ticket right from SalesWarp, without having to go to an external link.

In the window that pops up, fill in the subject line (No template required!), the description of your problem/inquiry, and the steps to reproduce the issue (in the case of a bug or error, this will allow us to identify and fix the issue quicker). Click next when done.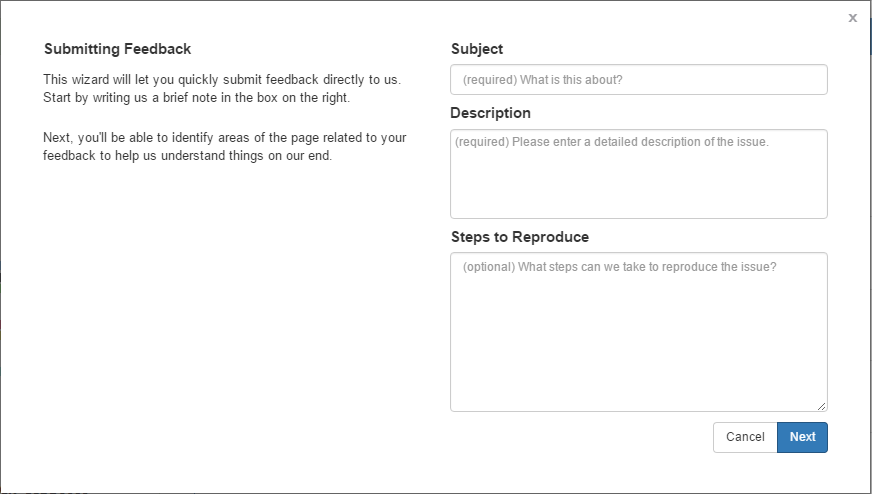 In the next window you will be able to highlight any relevant areas on the screen that relate to the issue you are having. You can also hide any information you do not want showing up in your screen shot.
Click review and then submit if everything you looks fine.
Responding to a support ticket:
When SalesWarp updates a ticket, Zendesk will notify you via email (it will be sent to the email you submitted the initial wicket with).
You will see two replies:
1.Email confirmation that the support request was received
2.Email notification that the ticket was updated and needs more information
To respond to a support ticket via email, start by opening the the email about the ticket update.
The email will contain the initial support request, the response from our SalesWarp team, and a link to the ticket in Zendesk.
Simply click reply and type your response in the email. You can also attach an image if needed.
Your response will be added to the ticket in Zendesk as a comment.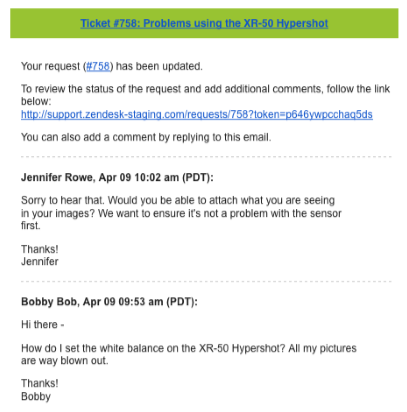 Tracking support requests:
Use the help center to track your support requests.
Begin by clicking your profile icon on the upper-right side of any page, and then click "My activities".
By default, the page displays all requests that are open or are awaiting your reply. In Zendesk, an open request is a ticket that's been assigned to an agent who is working to resolve it. A request awaiting your reply is a ticket that's been assigned to an agent, but the agent is waiting for more information before resolving the ticket.
To see details about a request, click the subject title.
To see a filtered view of all requests, including pending requests, enter a term in the filter requests box or select a request status from the status menu.
Closing and opening a ticket:
Closing a ticket:
•Click your profile icon on the upper-right side of any page, then, click "My activities"
•Click the subject of an open request (this will allow you to view the request)
•Select the option on the lower side of the request to mark it as solved
•Enter any comment you want in the reply and click "Add Reply"
Re-opening a ticket via the online portal:
•Click your profile icon on the upper-right side of any page, then, click "My activities"
•Click "All my requests" in the sidebar
•Click the title of a solved request to open it
•TIP: If you have a long list of requests, filter the view by selecting "Solved" from the status menu
•Click the link on the lower side of the request to create a follow up request
•Complete the follow up request and click submit
Re-opening a ticket via email:
•In the email account you used to submit the support request, open the email about the ticket update
•Reply to the email with a new comment
•Once you send the email the ticket request will be re-opened
If you have any questions or require further assistance, please feel free to contact us at support@saleswarp.zendesk.com